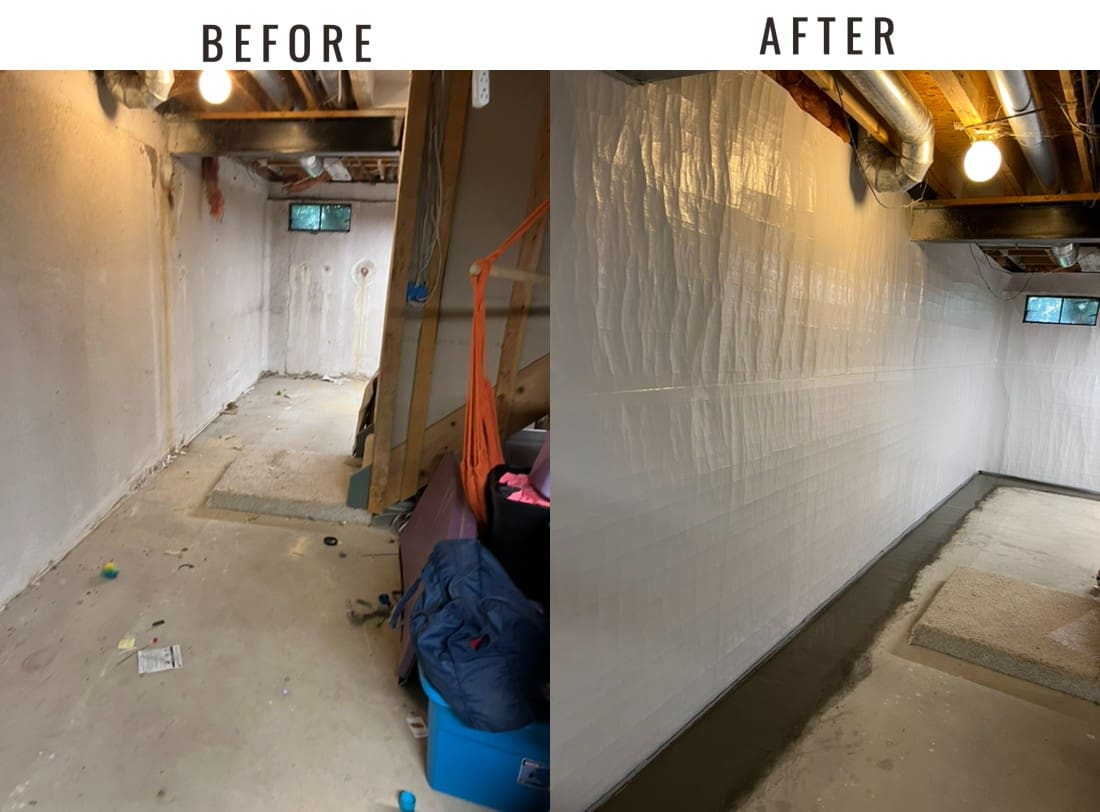 Basement flooding is a serious issue that can threaten the structural integrity of your entire home. In addition, your crawl space and basement areas are cool, dark, and damp, making them an ideal target for mold growth. As water freezes and unfreezes with the changing weather, soil expansion can create tiny cracks in a home's foundation. If left unchecked, more expensive foundation problems can spread.
If you notice standing water in your home, call Michigan Basements ASAP for treatment. For over a decade, Michigan Basements has provided airtight crawl space encapsulation and professional basement waterproofing in West Bloomfield, MI. We know how to keep your foundation dry, ensuring your home is safe and stable for years to come.
Contact us online or call (248) 327-0065 now for your FREE inspection and estimate!
Avoid Expensive Foundation Repair, Mold Growth, & Other Hidden Hazards for Crawl Spaces
If you notice a dripping pipe or other small basement leak, you might brush it off at first, but beware: water damage can lead to complex and expensive repairs over time. Crawl space air holds moisture, enabling the growth of harmful mold and bacteria.
How can you keep your crawl space dry and eliminate excess humidity? Your basement might have a sump pump drainage system to detect flooding and drain excess water, but that isn't always enough to clear ground moisture from the space and reduce relative humidity.
To fully protect yourself against water damage, call Michigan Basements. Our innovative triple protection waterproofing systems and wall liners keep water from infiltrating basements and crawl spaces in West Bloomfield, Michigan, and throughout the Metro Detroit area. Encapsulate the floor and walls of the crawl space area to create a perfectly sealed system so water vapor, moisture, and harmful gases cannot permeate through your home.
Contact us online or call (248) 327-0065 now for your FREE inspection and estimate!
Benefits of Vapor Barriers
Our encapsulation method protects a crawl space or basement from extra moisture by installing a vapor barrier on the basement floor and up the foundation wall of the basement and/or crawl space.
Benefits of crawlspace encapsulation include:
Better indoor air quality
Relief for respiratory problems
Improved energy efficiency
Moisture control and mildew control
No more musty odors
Reduced soil gases (such as radon gas and methane)
Protection against water leaks, dry rot, and wood rot
Reduced allergens (mold, dust mites, etc.)
How Does Crawl Space Encapsulation & Crawl Space Moisture Control Work?
When you think of your basement, you may think of a mess of pipes, dust, and forgotten storage space. Some crawl spaces might even be just plain dirt! These areas of a home are often poorly-insulated, which makes cooling and heating difficult. This raises your energy bills and holds moisture, leading to mold growth and airborne spores creeping into your home.
To prevent these issues, the crawl space encapsulation process wraps the entire crawl space with a moisture barrier. This includes the home's foundation walls, foundation piers, floor joists, basement windows, sill plate, the ground itself, and whatever else is necessary. A crawl space moisture barrier (sometimes called a crawl space vapor barrier or waterproofing membrane) is a special piece of sheeting made of waterproofing materials used to seal off areas and prevent moisture accumulation. It also provides additional insulation which can improve your home's energy efficiency and lower your electricity bills. It will help keep out pests like bugs and rodents as well.
However, if a crawl space vapor barrier is not properly installed, excess moisture will continue to collect and the horizontal surfaces will keep absorbing water. In fact, an improperly installed vapor barrier could make things worse by insulating and accelerating mold growth. Luckily, when you partner with Michigan Basements, there's no need to worry. We have years of experience fixing wet basements, by performing waterproofing, crawl space encapsulation, and foundation repair throughout southeast Michigan.
Why Choose Michigan Basements for Crawl Space Encapsulation, Basement Waterproofing, & Foundation Repair Services?
Michigan Basements provides affordable crawl space encapsulation and basement waterproofing for West Bloomfield residents and families across Oakland County, Wayne County, and Macomb County. We maintain compliance with building codes and obtain permits (including electrical and plumbing permits) for all jobs that require them. Our innovative system for crawl space moisture barriers and crawl space waterproofing is second to none, and our customer-centered service has made us a reliable choice for residents of West Bloomfield, MI, and the Detroit Metropolitan area for nearly a decade.
Bonded and insured
A+ rating from the Better Business Bureau
No-cost inspections and assessments
Equipped with all necessary tools and training
Customized crawl space systems and sump pump solutions
Swift same-day installation and clean-up
Customer satisfaction guaranteed
Crawl space encapsulation costs will vary depending on multiple factors (like crawl space size and your home's construction) but at Michigan Basements we do all we can to help you save money and protect your home against structural damage. All of our work is backed by a full warranty, and we aim to complete vapor barrier installation and waterproofing systems in just one day.
Additionally, we offer flexible and affordable financing options from Greensky. Call us at (248) 327-0065 to ask about our quick and easy application process. We also invite you to explore our basement and crawl space repair project portfolio, read testimonials from local customers, or contact us for a free estimate today.
Free Estimate for Crawl Space Encapsulation Cost & Basement Waterproofing in West Bloomfield, MI
No one wants to deal with a wet basement, and a properly sealed crawl space helps prevent excess moisture and exposure to black mold, making these services important investments for many homeowners in West Bloomfield.
For over a decade, Michigan Basements has served Michigan residents in West Bloomfield, Livonia, Clarkston, Commerce, Troy, Waterford, Walled Lake, White Lake, Wolverine Lake, Wixom, and more.
To keep your home dry and preserve property value, explore comprehensive foundation waterproofing systems, basement waterproofing, crawl space encapsulation, and more from Michigan Basements. Our local crawl space encapsulation professionals will keep your crawl space and basement dry and safe through the years.
Contact us online or call (248) 327-0065 now for your FREE encapsulation project estimate!