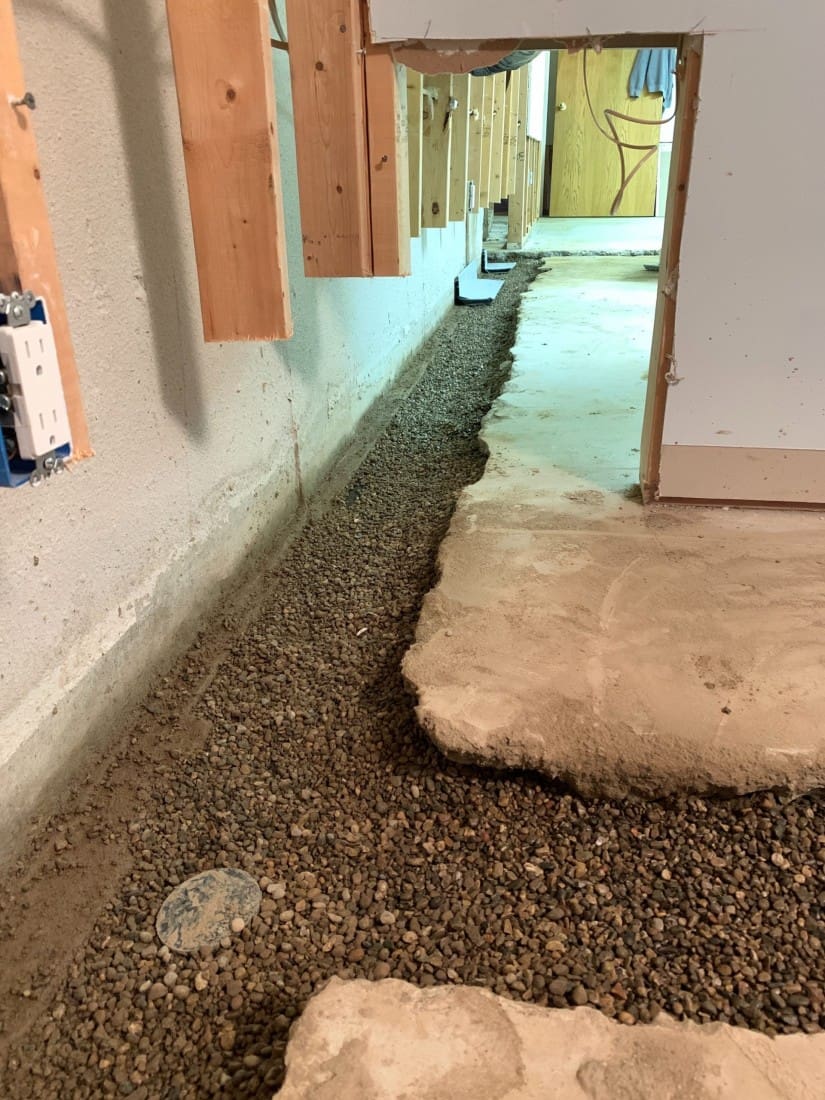 Have you encountered standing water or mysterious damp spots in your basement? Do you need help cleaning and restoring a flooded basement? We can help!
Damp dark spaces like your crawl space and basement hold onto excess moisture from the air. This means they are prime spots for mold growth and other expensive foundation repair problems. Fortunately, Michigan Basements comes to the rescue with professional basement waterproofing services in Farmington Hills, Michigan. Our full range of services includes:
CRAWLSPACE – ENCAPSULATION, INSULATION, DRAINAGE & SUMP SYSTEM INSTALLS AS WELL AS INSTALLING STABILIZING SYSTEMS FOR SAGGING FLOORS.
BASEMENTS – WATERPROOFING & SUMP SYSTEM INSTALLS, VAPOR BARRIER SYSTEMS AS WELL AS BOWING WALL REPAIR
Contact us online or call (248) 327-0065 to set up your FREE inspection and estimate!
Protecting Crawl Spaces and Basements from Mold and Mildew
Why is controlling moisture important? Because humid air, condensation, and standing water from foundation leaks can eventually team up to weaken your foundation walls, grow mold and bacteria, and even threaten the structural integrity of your building.
To prevent mold and water damage from wreaking havoc on your home, invest in basement waterproofing. Michigan Basements installs a range of systems to protect basements from water damage. This includes sump pumps, drains, and waterproofing material.
With the help of a specialized waterproofing membrane, our triple-protection waterproofing systems and wall liners keep basements and crawl spaces dry and safe. Plus, the encapsulation process prevents vapors and gases from entering the home. During the service call, we'll also inspect your existing drainage system and ensure everything is running smoothly.
THE ABOVE VERBIAGE IS FAULTY. A SPECIALIZED WATERPROOFING MEMBRANE IS PART OF THE TRIPLE PROTECTION AND THAT IS WHAT THE WALL LINER IS AS WELL – SO IT'S MAKING THREE DIFFERENT REFERENCES TO THE SAME THING.
Whether you need help with flood recovery or are simply interested in ways to protect your property value, the experts at Michigan Basements have all the services you need to avoid costly repairs and keep your home's foundation dry, stable, and safe. Contact us online or call (248) 327-0065 for your FREE home inspection and FREE estimate!
H2: How Does Crawl Space Encapsulation Work?
Because they are damp and dim, crawl spaces are quite prone to mold growth. This insidious threat can be harmful to your family's health. Michigan Basements can encapsulate your crawl space to improve the air quality in your home, create a barrier against mold growth, and effectively prevent moisture from entering.
Encapsulating a crawl space involves the following:
Inspecting and cleaning the crawl space. Belongings as well as rocks and other miscellaneous debris need to be removed prior to installation.
Measuring and cutting the barrier material to fit the space. Crawl space encapsulation begins with wrapping a moisture and vapor barrier on the floors and concrete walls to keep things clean and dry. This barrier is often made of heavy-duty polyethylene waterproofing materials to keep ground moisture from seeping in. The material needs to be properly measured and cut large enough to allow for proper overlap and sealing.
Encapsulating the crawl space. Next, the vapor and moisture barrier is fastened to each foundation wall, laid over the floors, and sealed. In addition to creating a more comfortable environment throughout your home, crawl space encapsulation and waterproofing also prevents costly issues like mold, termites, and other pests that can damage the home foundation.
Maintaining proper humidity. Even after the crawl space is fully encapsulated, it's important to maintain an appropriate level of relative humidity. Crawl space dehumidifiers can be installed to keep the humidity level at a healthy 45-50%. As an added bonus, proper humidity means your HVAC system won't have to work as hard and your utility bills may be lower!
Benefits of Crawl Space Encapsulation & Waterproofing Basement Walls
Improves indoor air quality
Eliminates musty odors
Improves energy efficiency
Moisture control
Mold and mildew control
Keeps pests out
Opens up more usable space in your home
Reduces soil gases like radon gas and methane
Protects against water leaks, dry rot, and wood rot
Lowers risk of respiratory problems by reducing mold, dust mites, and other allergens
Same-day professional installation
Fast clean-up
We Are Experts in Foundation Repair, Crawl Space Moisture Control, and Basement Waterproofing Service in Farmington Hills, MI
For over a decade, Michigan Basements has proudly provided crawlspace encapsulation, vapor barriers, and basement waterproofing in Farmington Hills and all across Oakland County.
Open and honest communication
No-cost inspections and assessments
Customized crawl space systems and sump pump solutions
Bonded and insured
A+ rating from the Better Business Bureau
Customer satisfaction 100% guaranteed!
Crawl space encapsulation and foundation waterproofing doesn't have to be invasive or frustrating. We're in and out fast, and we keep your house as clean as we found it. In addition, we maintain compliance with building codes and obtain all necessary permits before we start. Finally, all waterproofing system and vapor barrier installation jobs are backed by a full warranty and can be finished in as little as one day!
For great services and fair prices, choose Michigan Basements. View our project portfolio, read reviews from satisfied local customers, or contact us for a free estimate now.
Note: crawl space encapsulation cost depends on the size of the space, but we're always ready to work with you to develop a moisture control strategy that best fits your home. If you are concerned about crawl space encapsulation cost, consider our financing options from Greensky. Call (248) 327-0065 to learn more about applying for financing.
Get Your Free Estimate for Basement Waterproofing in Farmington Hills, MI
A wet basement is a breeding ground for serious foundation problems. Fortunately, the pros at Michigan Basements know the most effective moisture control and mildew control methods to keep your property safe and dry. For over a decade, we've proudly provided basement waterproofing services in Farmington Hills and the rest of the Metro Detroit area. If you need basement waterproofing, crawl space encapsulation, moisture control, mildew control, or foundation waterproofing, we're the name to call.
Contact us online or call (248) 327-0065 now for your FREE estimate.